Capitect provides advisors the ability to set up email alerts for their clients.
Client alerts can be set up by going to Settings → Alerts → Select the 'Client Email' tab → Edit.
Email Alert Frequencies
This section allows the advisor to choose which client email frequencies are available to their clients. Click 'Save Email Settings' to save the selected options.

These frequency options will appear when a client member is added to their household (as shown below).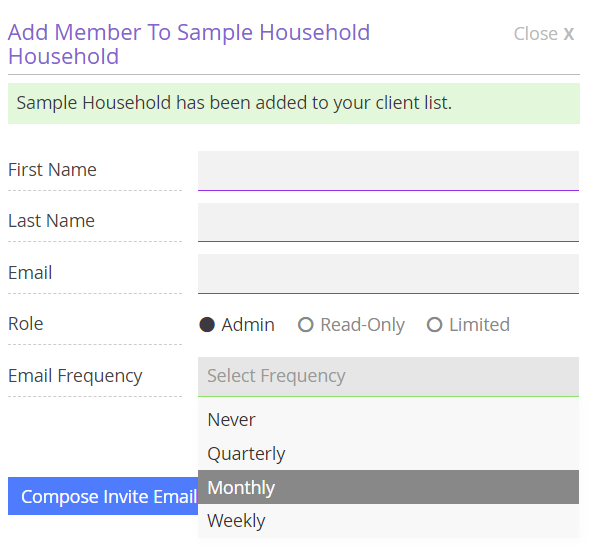 Email Alert Disclosure
A disclosure message in the client email alert can be set up from Settings → Alerts → Select the 'Client Email' tab → Click 'Edit' under the 'Disclosures' section (as shown below). The provided disclosure message will be included in all client alert emails.

Example Alert Email
An example of a client alert email is shown below. Depending on the client's selected email frequency (Weekly, Monthly, or Quarterly), the email provides multiple time periods (Monthly-as shown below, YTD, and Since Inception) for all client accounts ('Your Net Worth') and portfolio accounts (ie accounts marked as 'AUM' from Clients → Click on a specific client → Under Accounts, set account(s) as AUM → Save).
. If a disclosure message was previously set up, the disclosure will be included at the bottom of the email (not shown below). All client emails are custom branded with the firm's logo and provided a 'Log In' link for quick access to the client portal login page.