Capitect provides advisors the ability to set up a constant return, single or blended benchmarks.
This article outlines the components of setting benchmarks.
Creating a new benchmark
Go to Settings → Benchmarks → click 'Add +'.
Name
Provide a name for the benchmark. An advisor may have more than one benchmark where the name can help summarize which benchmark to view.

Type
There are three types of benchmarks that can be chosen: constant return, single, blend. Select which type by clicking on the drop-down arrow by 'Select Type". Each type selected will populate a new section for providing additional information.
Constant Return: An example use case: Track constant return assumption in a financial plan (ie 5%).
Single: Allows portfolio tracking to a single security or index (S&P 500) benchmark.
Blend: The 'Blend' type allows multiple securities and/or indices to be used as benchmark components.
Client Access
This section will allow the advisor to give clients access (All clients or specific clients) to see benchmarks in their performance. The advisor is still able to view all benchmarks even when hidden from the client.

Viewing Benchmarks
Benchmarks can be viewed at the firm or client level.
The firm-level benchmarks can be viewed by going to Reports → Performance → click on 'Select Benchmark' → choose a benchmark.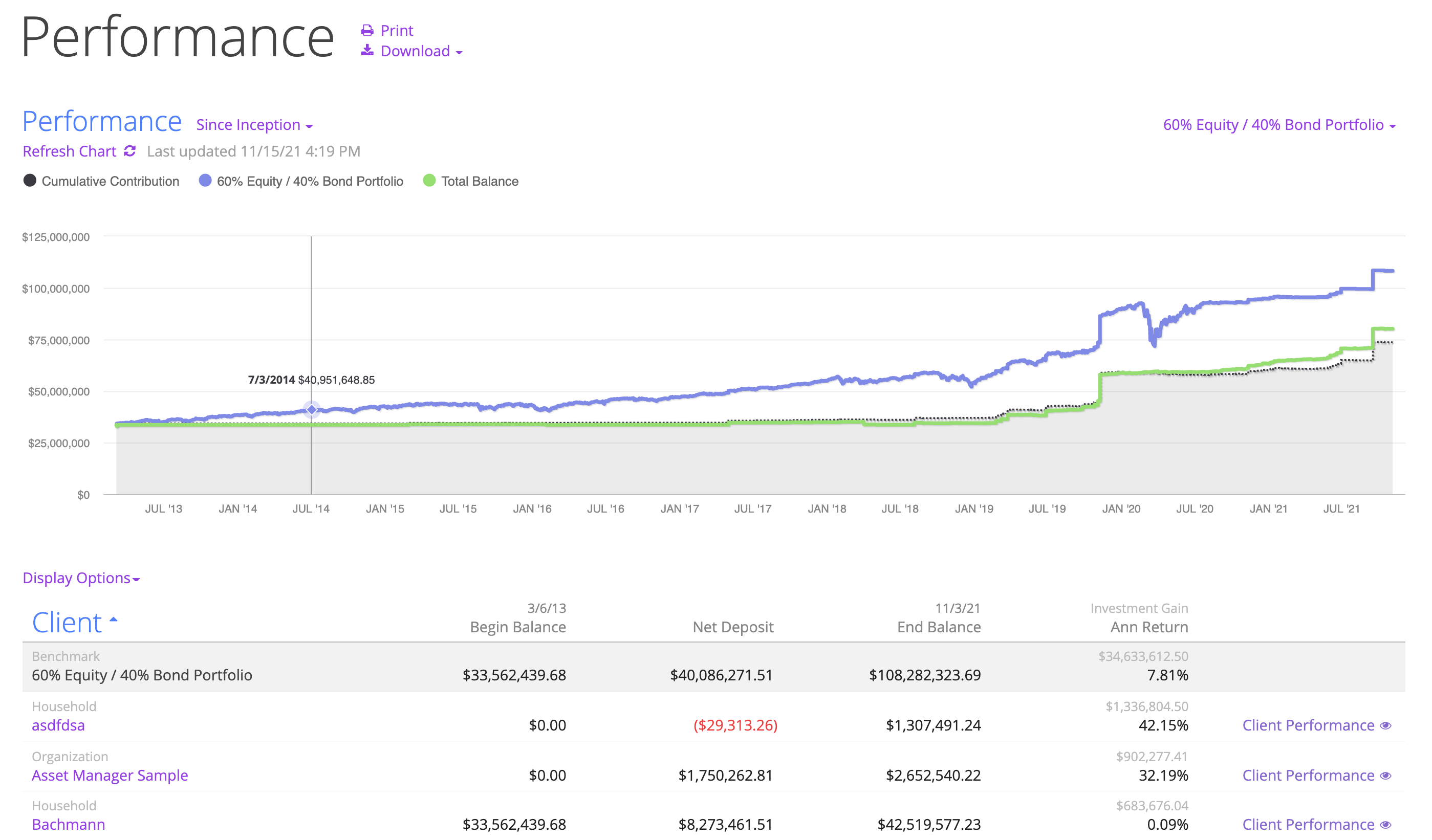 Client-level benchmarks can be viewed from the client's performance page (Client View → Reports → Performance → click on 'Select Benchmark' → choose a benchmark). The selected benchmark can be compared to performance on all accounts, AUM accounts, goal (strategy), account, and account category (ie investment accounts) over various time periods.