Capitect provides an integration with Wealthbox. The data feed allows Capitect to automatically send account data (accounts, balances, positions) on a daily basis.
Here are the steps to get started:
1. Obtain 'Capitect ID' and 'API Key'
Navigate to 'Integrations' > API Keys
Click 'Add+' > Select Wealthbox from the list then 'Create API Key'
Copy the Capitect ID and API Key.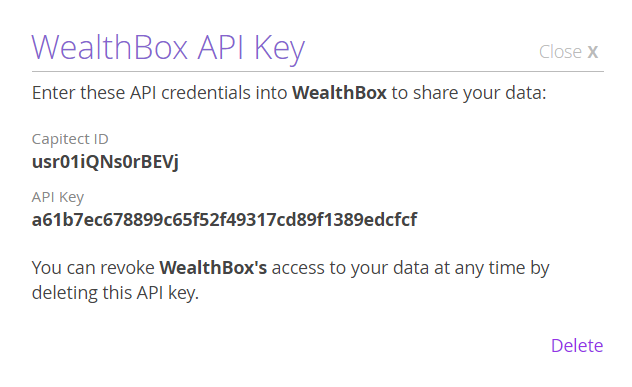 2. Enable Capitect Integration in Wealthbox
From the three-dot menu in the top right corner of Wealthbox, click on "Applications", then click the "Settings" button for the Capitect application as shown in the below screenshot:
Enter the Capitect ID and API Key you generated for Wealthbox within Capitect and click the "Enable" button:
Once you connect successfully, you will see accounts for matching Capitect clients on the contact record pages in Wealthbox.
You can access Wealthbox's support documentation for this integration here.